Vespel pick-up tools are also named as hi-temperature pick up tools, they are used for small dies, transistor, LED, TO92, SOTs, SC70, Opto and other small chip application with ID minimum of 0.10mm.
VESPEL is more durable, rigid, it will not hold a static charge and it can work at 550 'F (288 'C).So our Vespel pick-up is very durable, anti-static and can work in high temperature.
Vespel pick-up tools are not so hard as the Tungsten Carbide Pick-up Tool, so there will not be any indentation on LED and IC with Vespel pick-up tools, so it makes Semiconductor packaging easy .
Usually the Vespel pick-up tools can be used more than 400K-500K times, they can work well at room temperature or high temperature.
Vespel pick-up tools are applied to ASM、K&S、ESEC、SHINKAWA、TOSOK、PHILIPS、AMI、FOTON、ALPHASEM、NEC、MATSUSHITA、NICHIDEN、TOSHIBA、ZEVATEC、TEXAS INSTRUMENTS、MANUAL VACUUM WAND and so on. The smallest inner diameter is 0.08MM(3MIL), the largest outer diameter is more than 30MIL;
We accept customized Vespel pick-up tools, usually the delivery lead time is only 3 working days, please contact us when you have any needs and wants.
| | | | | | |
| --- | --- | --- | --- | --- | --- |
| Part Number | Specification | Material | Length(mm) | MIL(I.D) | MIL (O.D)  |
| DBE-B-AM-2000-V-07-035 | 3.5mil | Vespel | 20.00 | 7.0 | 3.5 |
| DBE-B-AM-2000-V-08-04 | 4mil | Vespel | 20.00 | 8.0 | 4.0 |
| DBE-B-AM-2000-V-09-045 | 4.5mil | Vespel | 20.00 | 9.0 | 4.5 |
| DBE-B-AM-2000-V-10-05 | 5mil | Vespel | 20.00 | 10.0 | 5.0 |
| DBE-B-AM-2000-V-11-055 | 5.5mil | Vespel | 20.00 | 11.0 | 5.5 |
| DBE-B-AM-2000-V-12-06 | 6mil | Vespel | 20.00 | 12.0 | 6.0 |
| DBE-B-AM-2000-V-16-08 | 8mil | Vespel | 20.00 | 16.0 | 8.0 |
| DBE-B-AM-2000-V-20-10 | 10mil | Vespel | 20.00 | 20.0 | 10.0 |
| DBE-B-AM-2000-V-40-20 | 20mil | Vespel | 20.00 | 40.0 | 20.0 |
20 AM Vespel pick-up tools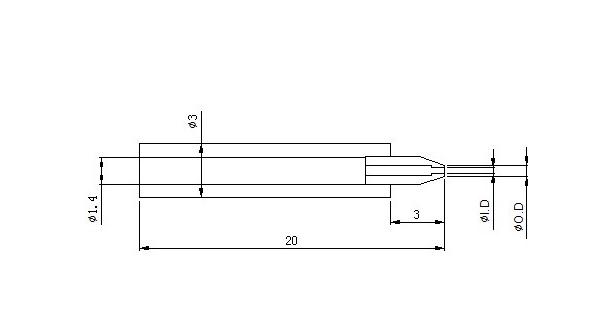 | | | | | | |
| --- | --- | --- | --- | --- | --- |
| Part Number | Specification | Material | Length(mm) | MIL(I.D) | MIL (O.D)  |
| DBE-B-AM-2000-V-07-035 | 3.5mil | Vespel | 20.00 | 7.0 | 3.5 |
| DBE-B-AM-2000-V-08-04 | 4mil | Vespel | 20.00 | 8.0 | 4.0 |
| DBE-B-AM-2000-V-09-045 | 4.5mil | Vespel | 20.00 | 9.0 | 4.5 |
| DBE-B-AM-2000-V-10-05 | 5mil | Vespel | 20.00 | 10.0 | 5.0 |
| DBE-B-AM-2000-V-11-055 | 5.5mil | Vespel | 20.00 | 11.0 | 5.5 |
| DBE-B-AM-2000-V-12-06 | 6mil | Vespel | 20.00 | 12.0 | 6.0 |
| DBE-B-AM-2000-V-16-08 | 8mil | Vespel | 20.00 | 16.0 | 8.0 |
| DBE-B-AM-2000-V-20-10 | 10mil | Vespel | 20.00 | 20.0 | 10.0 |
| DBE-B-AM-2000-V-40-20 | 20mil | Vespel | 20.00 | 40.0 | 20.0 |
1700 Vespel pick-up tools

| | | | | |
| --- | --- | --- | --- | --- |
| Part Number | Material | Length(mm) | MIL(I.D) | MIL (O.D)  |
| DBE-A-1700-V-08-04  | Vespel | 17 | 8 | 4 |
| DBE-A-1700-V-10-05  | Vespel | 17 | 10 | 5 |
| DBE-A-1700-V-12-06  | Vespel | 17 | 12 | 6 |
| DBE-A-1700-V-16-08  | Vespel | 17 | 16 | 8 |
1400 Vespel pick-up tools

| | | | | |
| --- | --- | --- | --- | --- |
| Part Number | Material | Length(mm) | MIL(I.D) | MIL (O.D)  |
| DBE-A-1400-V-08-04  | Vespel | 14 | 8 | 4 |
| DBE-A-1400-V-10-05  | Vespel | 14 | 10 | 5 |
| DBE-A-1400-V-12-06  | Vespel | 14 | 12 | 6 |
| DBE-A-1400-V-16-08  | Vespel | 14 | 16 | 8 |